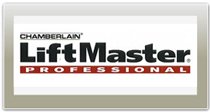 Garage Door Man only uses and installs products that are proven to be reliable and customer friendly.  Liftmaster brand products rank highest in both of those categories, and are Garage Door Man's go to company when it comes to garage door openers and accessories.  Here is a brief rundown of the three most commonly installed liftmaster openers.
1355 Chaindrive- If you want a quality opener with both strength and dependability that fits in your budget, this is the opener for you.  With additional security and safety features the 1355 chain drive provides everything that an owner would need at an affordable price.
8355 Beltdrive- If noise is something that you are worried about, this premium series opener is a great option.  This opener needs very little maintenance, and is very quiet due to the patented Motor Vibration Isolation System.  Another great feature of this opener is the built in MyQ technology.  With the addition of an internet gateway, the garage door can be synced, viewed, and controlled by a smartphone, tablet or computer.
8500 Jackshaft-  Do you have limited ceiling space, or just want a sleek, clean look in the garage?  This modernly designed jackshaft is both subtle and powerful.  It has all the added features of the beltdrive described earlier, contained in an inconspicuous wall mounted and ultra quiet opener.  It really can put the finishing touch on a remodeled garage space or solve the problem of ceiling obstructions in one great product.