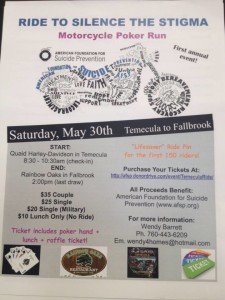 Being involved in the community is something dear to the Garage Door Man's heart.  Both as a business owner and as a citizen, the Garage Door Man enjoys supporting, improving, and celebrating North County San Diego and the surrounding areas.  He is involved in youth sport programs, local street fairs, and countless other causes that impact his community.
On Saturday, May 30th, he will be supporting the American foundation for Suicide Prevention by attending a motorcycle poker run from Temecula to Fallbrook.  The event will start with a check-in at Quaid Harley Davidson in Temecula between 8:30-10:30 and ends at Rainbow Oaks in Fallbrook with last draw at 2:00.  For the price of your ticket, $35/couple $25/single $20/single military you will receive a poker hand, lunch, and a raffle ticket.  There is also a $10 lunch only option.  All the proceeds benefit the American Foundation for Suicide Prevention to help erase the stigma that surrounds this hard hitting topic.  Anyone interested in helping this great cause can purchase their tickets at http://afsp.donordrive.com/event/TemeculaRide/ .  For any questions or more information you can contact Wendy Barrett at (760) 443-6209 or e-mail her at wendy4homes@hotmail.com
Odds are that you have directly or know someone who has been directly affected by suicide and it is crucial to end the silence that commonly surrounds this issue.  Join the Garage Door Man and many others on Saturday May 30th for a day of fun, helping, healing, open discussion and support for an important cause.