Everybody wants to be able to utilize every inch of their home in an efficient way. This also includes the garage. For years, the garage door opener hung from the ceiling and took up room that could have been used for another purpose. Maybe some more shelves to house all of the Christmas decorations. Maybe little Jimmy's box bikes could hang up there. Or maybe you need a lift to work underneath cars and motorcycles in your own garage. If this is the case then where would the garage door opener go if not on the ceiling? The answer is: on the wall. Liftmaster's side mounted jackshaft motor attaches directly to the wall near the door itself and frees up the entire ceiling.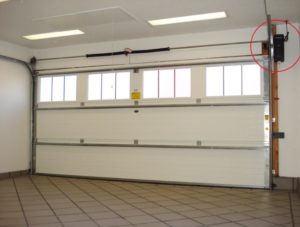 Besides giving your garage more usable space, the Liftmaster jackshaft also has tons of other exciting and incredibly useful features. Since the garage door opener is mounted on the wall, it cuts down on all of the noise and vibration that generally travels from the garage ceiling to the floors above and beside the motor. This is very important if those rooms are bedrooms or nurseries. Another helpful feature is the remote light that comes with the jackshaft. It can be placed anywhere in the garage to provide light where you need it the most. Tech savvy customers love how the jackshaft is MyQ compatible and allows them the ability to monitor, open and close the garage door from their smartphone. It also includes the upgraded MyQ control panel. This panel not only provides MyQ and Security 2.0 capabilities to the jackshaft, but also any other garage door opener manufactured after 1998. This is great if you have a three car garage. It allows all the openers to work together in a modern, effortless way. Lastly, one of my favorite features is the timer to close feature. This can be set to close the door for you after a set amount of time has elapsed. I like this because even if you don't want to fiddle with all of the MyQ technology, you will know that if you forget to close the door it will not be mistakenly left open for an extended amount of time.
If you are interested in the Liftmaster jackshaft or have any other garage related questions fell free to call the Garage Door Man at (760) 710 7251.