Now that it is starting to cool (slightly) in San Diego, a street fair is a great way to spend a Sunday with friends or family.  Escondido is hosting California's second largest single day fair on historic Grand Ave on October 19th.  From 9:30 am to 5:30 pm, along with over 500 other vendors, The Garage Door Man will be there to help anyone from the novice to the expert on all things garage.
The Garage Man will be there to answer any questions that one might have about getting a new garage or tackling any problems with the one that they have currently.  There will be actual garage door parts and systems on display to allow customers a hands on approach to identifying the components of their garage and educating them on their proper maintenance.  The Garage Door Man has also partnered with Liftmaster to educate the public on all of the options available for motorized openers.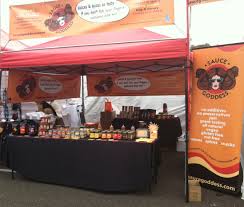 An event like The Escondido Street Fair not only allows The Garage Door Man to reconnect and catch up with loyal customers throughout the community, but allows new relationships to bloom as well.  It allows the public a chance to meet and connect with a company and build a relationship that is lacking in large cookie cutter corporations.  Allowing someone into your home and trusting them with the safety of your garage and everything around it can be a scary thought, and a conversation and a handshake can help alleviate some of those concerns.
In addition to meeting The Garage Door Man, and thus taking the first step to improving the functionality of your garage, there are tons of other activities and features at The Escondido Street Fair.  Approximately 60,000 people are expected to pass through and participate in the festivities.  Food from all over the world will be sold with accompanying adult beverages in the beer garden.  There will be live music, animal demonstrations provided by The San Diego Safari Park, and a deluxe climbing wall.  There is plenty to keep the little ones busy as well. An entire block is devoted to helping them burn off all the sugar they will happily consume throughout the day.
So bring the whole gang and don't forget to visit The Garage Door Man.  Just to say hi, make an appointment, or just pick our brains on all things garage. See ya there!!